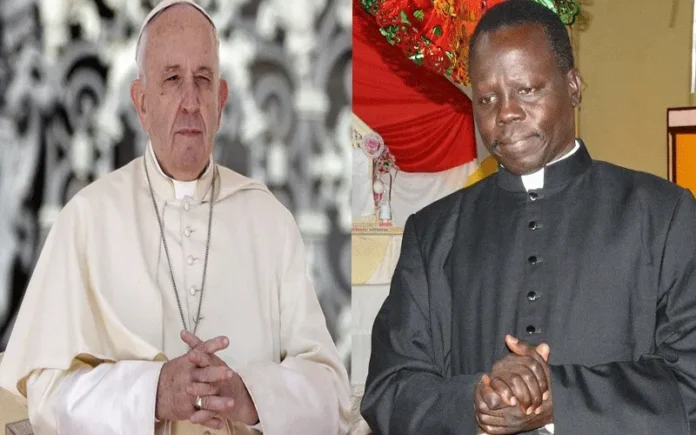 On Sunday, 9th July 2023, Pope Francis announced he had chosen 21 new cardinals, including The Most Rev. Dr. Stephen AMEYU MARTIN MULLA, putting his mark on the group that will one day choose his successor after his death or resignation.
The Ceremony to install them, known as a consistory, will be held on Sept. 30, the pontiff announced during his noon prayers to pilgrims in St. Peter's Square. This will be the ninth consistory called by the pope since his election a decade ago as the first pontiff from Latin America.
"I would like to announce that next 30 September, I will hold a Consistory for the appointment of new Cardinals. Where they come from expresses the universality of the Church, which continues to proclaim the merciful love of God to all people of the earth." He said.
The new cardinals come from countries worldwide, including South Sudan, the United States, Italy, Switzerland, Spain, Argentina, South Africa, Colombia, Hong Kong, Poland, Malaysia, Tanzania, and Portugal.
BELOW IS THE LIST OF THE FUTURE CARDINALS,
Here are the names of the new Cardinals:
Archbishop Robert Francis PREVOST, O.S.A., Prefect of the Dicastery for Bishops
Archbishop Claudio GUGEROTTI, Prefect of the Dicastery for Eastern Churches
Archbishop Víctor Manuel FERNÁNDEZ, Prefect of the Dicastery for the Doctrine of the Faith
Archbishop Emil Paul TSCHERRIG, Apostolic Nunzio
Archbishop Christophe Louis Yves Georges PIERRE, Apostolic Nunzio
Archbishop Pierbattista PIZZABALLA, Latin Patriarch of Jerusalem
Archbishop Stephen BRISLIN, Archbishop of the Capetown (Kaapstad)
Archbishop Ángel Sixto ROSSI, S.J., Archbishop of Córdoba
Archbishop Luis José RUEDA APARICIO, Archbishop of Bogotá
Archbishop Grzegorz RYŚ, Archbishop of Łódź
ARCHBISHOP STEPHEN AMEYU MARTIN MULLA, ARCHBISHOP OF JUBA
Archbishop José COBO CANO, Archbishop of Madrid
Archbishop Protase RUGAMBWA, Coadjutor Archbishop of Tabora
Bishop Sebastian FRANCIS, Bishop of Penang
Bishop Stephen CHOW SAU-YAN, S.J., Bishop of Hong Kong
Bishop François-Xavier BUSTILLO, O.F.M. Conv., Bishop of Ajaccio
Bishop Américo Manuel ALVES AGUIAR, Auxiliary Bishop of Lisbon
Reverend Ángel FERNÁNDEZ ARTIME, S.D.B., Rector Major of the Salesians


In addition to the cardinals' elect, the Pope has announced that two archbishops and one religious who have made significant contributions to the Church will also be joining the members of the College of Cardinals. The Pope recognized and valued the hard work and dedication of these individuals.


Archbishop Agostino MARCHETTO, Apostolic Nuncio.
Archbishop Diego Rafael PADRÓN SÁNCHEZ,
Archbishop Emeritus of Cumaná Father Luis Pascual DRI, OFM Cap., Confessor of the Shrine of Our Lady of Pompei,BuenosAires