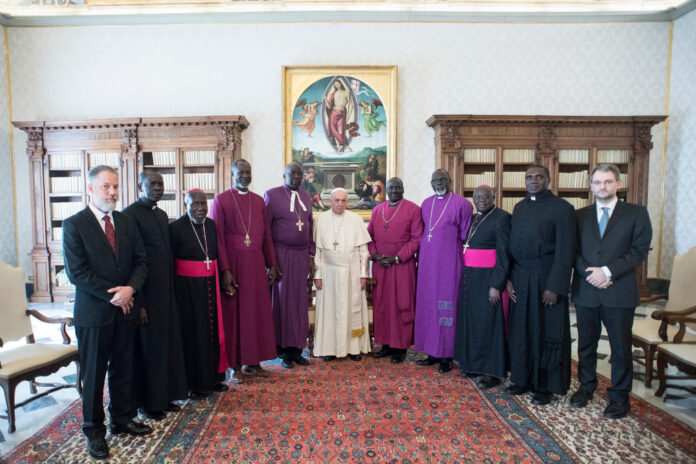 After repeatedly delaying his trip to the second youngest nation in the World due to instabilities, Pope Francis is to visit South Sudan in July after a trip to the Democratic Republic of Congo.

According to Bruni the 85 years old pontiff will visit the Democratic Republic of Congo from July 2 to 5, visiting the Capital Kinshasa and Goma in the eastern province of North Kivu, and will visit South Sudan from the 5 to July 7. This visit will be in the Capital of Juba.
This historic trip will mark the third trip of the Pope to Sub-Saharan Africa, and it is the first time a Pope visit the second world's youngest nation.

Pope Francis has made four visits to the continent of Africa since his election in 2013. He visited Kenya, Uganda, and the Central African Republic in 2015, Egypt in 2017, and went first to Morocco and Mozambique, Madagascar, and Mauritius two years later. According to a statement from the Vatican, the visit to South Sudan and Congo will be second since the pope is set to travel to Malta in April.

The Archbishop of Canterbury, Justin Welby, and the moderator of the Church of Scotland, Jim Wallace will widely expect to Join Pope Francis for this visit to South Sudan. In a statement released last month, Welby stated that the joint ecumenical trip to South Sudan will be historic since both were to visit South Sudan in 2017.

In December, the Vatican's foreign minister, Archbishop Paul Gallagher, visited the Capital of South Sudan. He met both the country's political leaders, church leaders, and civil society activists/ leaders. All this was in preparation for the visit of the papal as his statements confirmed the safety of the horizon.

Since the independence of South Sudan, South Sudan has suffered from chronic instability and a five-year-long civil war. In 2019 the South Sudan 5-member leadership delegation – President Kiir, First Vice President Machar, Vice presidents – James Wani Igga, Taban Deng Gai, and Rebecca Nyandeng De Mabior visited the Vatican for a Peace Retreat and in the quest for peace. In a historic sence, the Pope Knelt to kiss their feet, begging both the president and the rebel leadership to never return to the Civil war. Nearly 400,000 people have been killed since the war began in December 2013, and an estimated 4 million people have been displaced.

Though the country has not returned to the civil war that erupted in 2013, there has been instability due to communal conflicts and insecurities.